Downsizing in Style
Downsizing your home doesn't mean getting rid of everything that's dear to you. Usually it's just a case of simplifying your life. The key to downsizing is taking stock of your possessions, choosing only items you use on a daily or regular basis, and imagining how they fit into your new space.
We asked Brisbane-based interiors designer's Lee Accatino and Tony Robertson to use Ascot Green as their inspiration and give us their top tips on how to create the perfect balance of old and new.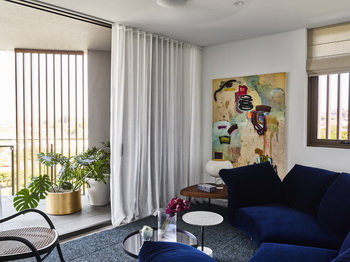 ---
1. Proper Proportion
Scale and proportion are probably the most important considerations, so be careful not to overwhelm the apartment with visually heavy items. However, there is no need to shy away from impactful, statement pieces, balance is key to create harmonious spaces.
2. Smart Storage
Choose versatile furniture with built-in storage that can provide additional space for everything you need. A TV unit could function as a console or credenza for special dinnerware, while sofas with under-seat storage are useful for blankets and spare cushions.

---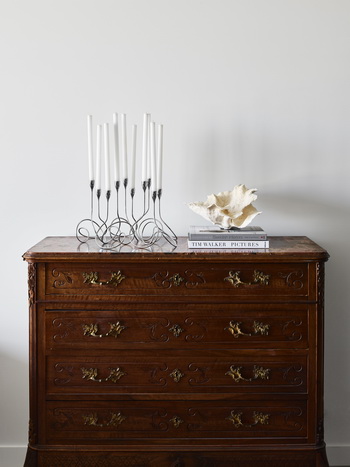 3. Mix it up
If there are family heirlooms or sentimental pieces you just cant part with, mix and match with high-end modern pieces. An antique table goes well with new upholstered chairs, or perhaps convert vintage items into functional pieces you will use every day.
4. Maximise your space
Make the most of your home by taking full advantage of available floor space including balcony areas. Vertical space can also be both functional and decorative, such as elegant wall shelving, clever uses of doors or concealed areas behind joinery.
5. Mirror mirror on the wall
A well-placed mirror helps to bring the outside in and adds a dimension to your home. Aesthetically beautiful and versatile, they reflect light, break visual clutter or expand walls, enlarging any room in an instant.
6. Sheer beauty
Soften your apartment with sheers rather than solid curtains. Sheers let in light and views to create a more atmospheric and comfortable ambience.
---
7. Optical illusions
Clever use of wallpaper with vertical lines or tall bedheads helps to draw the eyes upwards, creating an additional sense of height. Similarly, long horizontal lines deliver a sense of width where it is desired.
8. Embrace colour
It is a common misconception that light colours will make an apartment look larger. The truth is, carefully placed furnishing and carefully chosen colours can create stylish, inviting spaces without compromising their sense of space. Consider feature walls or colour accents that reflect your personality. If you prefer a neutral palette, combine different but complementary materials to create interesting layers and textures.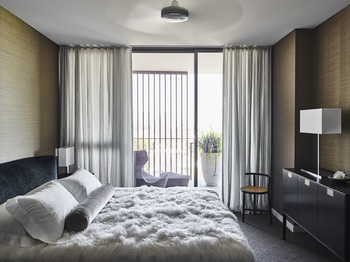 ---