Disclaimer: Tulloch House model and future development areas shown are an artist's impression. Indicative only and subject to change. Please note parts of the land surrounding Ascot Green shown do not form part of Mirvac's Development Site (External Area). Development of External Areas are not the responsibility of or under the control of Mirvac. External Areas may not be complete at the time of settlement.
TULLOCH HOUSE UNDER CONSTRUCTION
The construction of Tulloch House commenced at Ascot Green in April 2020 with and expected completion date of late 2021.
Please register your details via the registration form below to keep up to date with the ongoing construction of Tulloch House.
Register for Community Updates
Alternatively, if you're interested in finding out more about the available apartments, register your details here and our team will be in contact with you.
PROJECT OVERVIEW
Tulloch House is the 2nd building to be constructed within the Eagle Farm Residential Precinct, known as Ascot Green, which will be constructed in stages over several years. The building shares common facilities and carpark with the neighbouring Ascot House. Tulloch House comprises of 84 residential apartments (a mix of 1, 2 and 3 bedroom apartments and pavilions) over 8 floors. Whilst Tulloch House is a new building, it will make use of services infrastructure built within Ascot House, including the basement car parking. The building will offer its residents a high level of amenity with a gym, pool, rooftop recreation deck, and easy access to local shops, restaurants, services and parks, all in the historic and serene setting of the Eagle Farm Racecourse.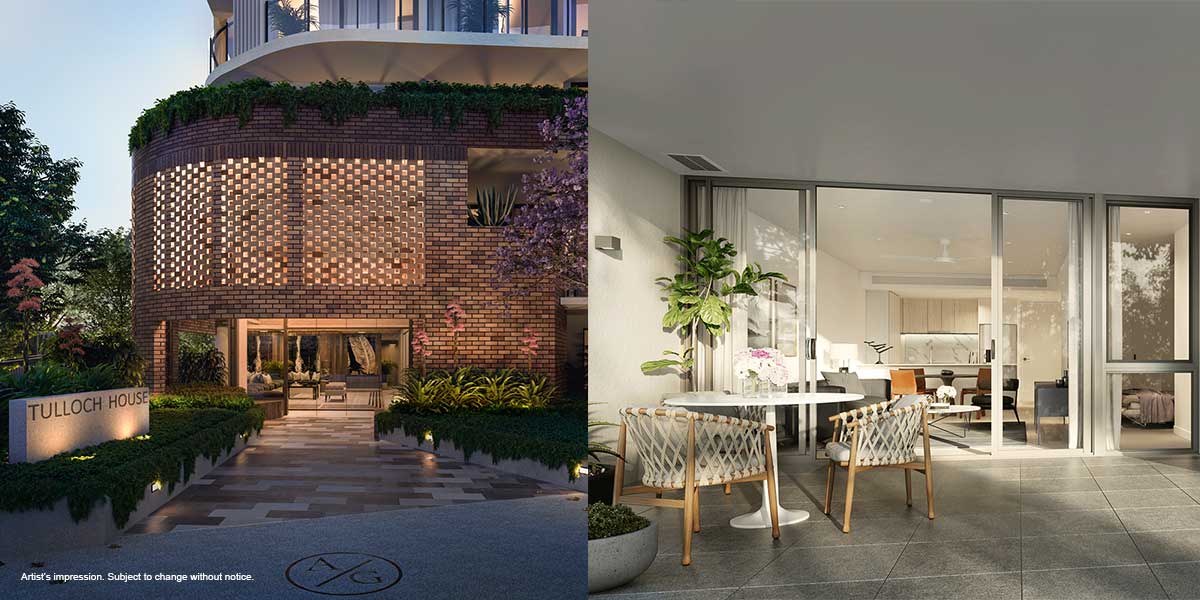 When will Tulloch House construction finish?
The construction of Tulloch House will be completed in late 2021.
What will be constructed as part of Tulloch House?
On completion Tulloch House will be a nine storey building with eight residential levels and a rooftop terrace. The shared gym between Ascot House and Tulloch House will be constructed in the lobby of Tulloch House.
What are the hours of operation for construction?
The Development Approval permits construction activities to operate between 6:30am and 6:30pm, Monday to Friday and Saturdays. There will be no work on Sundays and public holidays without express consent from the Brisbane City Council Planning Assessment Office.
What security measures have been included within Ascot Green?
Access to the lobby and each apartment level is secure. Once apartment owners grant access to visitors from the apartment intercom, a lift will be called and will be programmed to travel to the floor level of the apartment being visited only. Access to the residential car parking in the basement will be via a security roller door.
What will be the effects on local traffic?
Mirvac has a traffic management plan in place to minimise the effects of construction traffic to the local area. There will be road and pedestrian changes to Lancaster Road in front of the construction site to manage traffic.
Where will construction traffic be entering the Eagle Farm Racecourse from?
All construction traffic will enter and exit via Nudgee Road opposite Hampden Street.
Will construction be taking place on race days at Eagle Farm?
For any major race days held at Eagle Farm, the construction site will be closed and secured. The construction site will remain open during fortnightly Wednesday and Saturday race meets at Eagle Farm and the adjacent track at Doomben Racecourse, however, measures will be implemented to prevent disruption during each horse race.
Will there be security on site?
Mirvac will engage a security service to monitor the site via motion sensor and video, with security personnel deployed if required. Mirvac's site induction procedure will include site rules prohibiting access to areas of the Brisbane Racing Club (BRC) site outside of designated construction zones.
Will there be a designated area for construction parking?
To minimise the impact of the construction works on the BRC precinct and surrounding area, Mirvac will establish a temporary off-street parking area next to the site accommodation area which will be accessible via the Nudgee Road entrance.
If you have any other questions you can contact our community information team directly via phone: 1300 659 694 or email: community.information@mirvac.com. This hotline and email address will remain active during the early stages of construction whilst the website will be updated periodically.